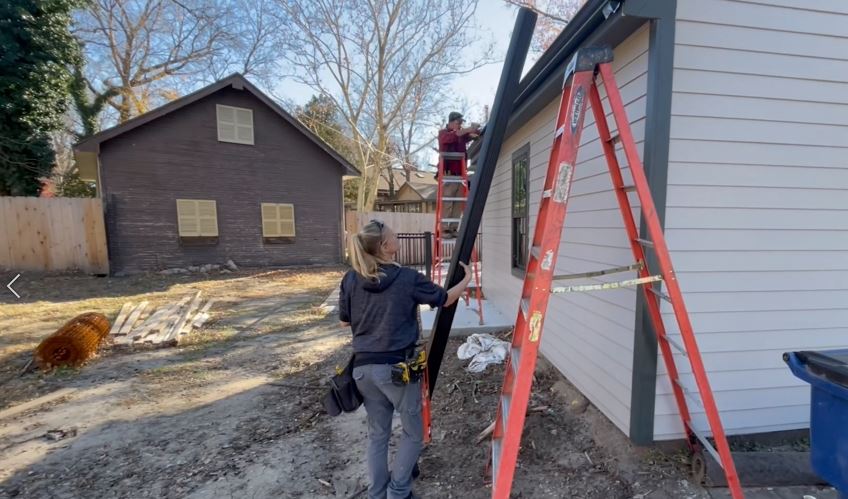 The exterior of the Star Showcase Home is almost complete with the addition of guttering. This will help maintain the home's siding and windows. It also blends so well with the rest of the exterior! Thank you to our friends at Keeter Roofing and Remodeling for helping us with this project!
Things are looking up in the Star Lumber Showcase Home! There were a few decisions to be made regarding guttering options. Daryn Keeter of Keeter Roofing & Remodeling carefully considered the style architecture of the home when choosing the guttering for the Star Showcase Home. The goal was to keep the home looking traditional to the neighborhood.
When going through the options with the guttering experts at Star Lumber, he chose a 5 inch seamless product made out from a pre-painted 27 gauge aluminum. In Keeter's professional opinion, it will work well keeping the home and foundation dry and free of water. In addition, it saves the paint and siding, keeping the home free of damage.
In this project, there were some challenges, particularly the height of the home. This made it difficult to access the guttering of the home. This meant additional equipment was brought in so that all the installers could get the job done.
The guttering that was installed, uses a specific extruding machine. This machine rolls coiled metal through it which creates or extrudes the gutter's shape. The extruded gutters are rigid and created to have a decreasing drop towards the downspout, which increases the pitch of the gutter as it drops which allows water to run down and away from the home. This design helps keep the home dry and free of damage.
When installing the guttering there are a lot of additional accessories involved like: end-caps, downspouts, hidden hanger systems, and caulking. The hidden hanger system gives the guttering the look that there are no nails or fasteners holding it in place on the home, which is an attractive feature of the home.
Keeter Roofing and Remodeling does more than just guttering. There are four home construction service offerings Keeter offers: roofing, siding, guttering and custom screen enclosures for both remodeling and new construction projects.  
When Daryn Keeter found out the net proceeds will be donated to the Wichita Children's Home, he knew he wanted to be involved, especially knowing Star Lumber was involved. Daryn wanted to donate not just his time but his goodwill back to the community that he provides services too. Keeter Roofing and Remodeling has a great working relationship with Star Lumber, and Daryn knew working with them on the Star Showcase Home was the right thing to do to give back to the community.