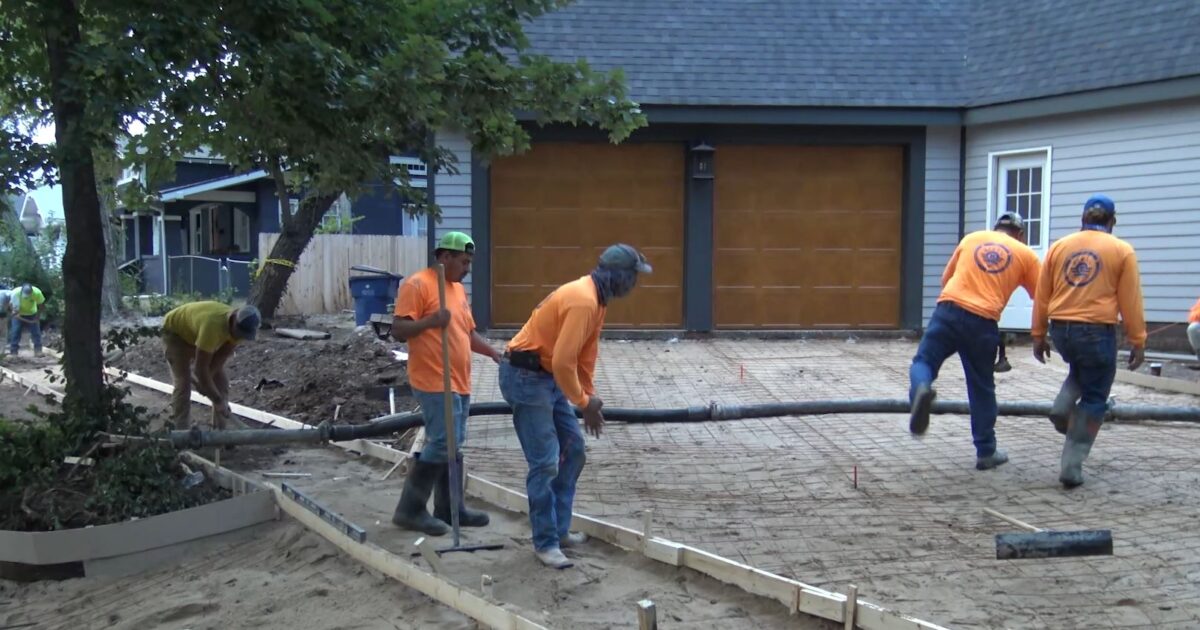 We replaced the cracked old concrete in the driveway and on the sidewalk. Since we had to pull out the old concrete, we were able to add a space for landscaping, creating more curb appeal along the side entrance. Thank you to our friends at Beran Concrete for the all the amazing work!
Today we join Kelley at the Star Showcase Home benefiting the Wichita Children's Home. Today we're here with Beran Concrete and while they are tearing out the concrete. We're going to have a little different reconfigured driveway, and it's going to be nice. We're going to fix the sidewalk and just overall make this entrance much more inviting.
After all the demo is finished, it's time to start pouring fresh concrete. We talk with Zeb from Beran Concrete and discuss why we decided to redo the driveway, main entrance, and sidewalk. A portion of this driveway was original to the house when it was built, another portion was added on later. The original drive was pretty well constructed even though it was about a century old. The part that was added on was not as well constructed and cracked quite a bit. The two separate slabs also created an odd space for parking and daily usage. It was best to tear out the old driveway and pour a new slab before we get started on the landscaping.
Challenges to pouring the concrete
Anytime you tie into an older home, particularly with a driveway, you never know what you're going to find underneath. We had a hard time tying into the garage and the street that's now in place since there are mature trees in the right of ways. The best we can do is work around them while still providing a functional driveway. The drive is still pretty steep in approach but the parking area and the landscaping should add a lot of curb appeal now.
How long does it take to replace a driveway?
Normally it takes a day to remove the old concrete and a second day to pour the new driveway. On this particular project we stretched it out over a few days since the street is tight with traffic and neighbors still park on the street. On the second day of this project, we took time to build the forms and do our prep work in anticipation of pouring the third day.
Special equipment
A lot of this type of work is still done by hand. We do use skid loaders and other equipment for the demolition part and moving material around but as far as setting the forms and stakes, everything's still done by hand.
Learn more about the Star Showcase Home