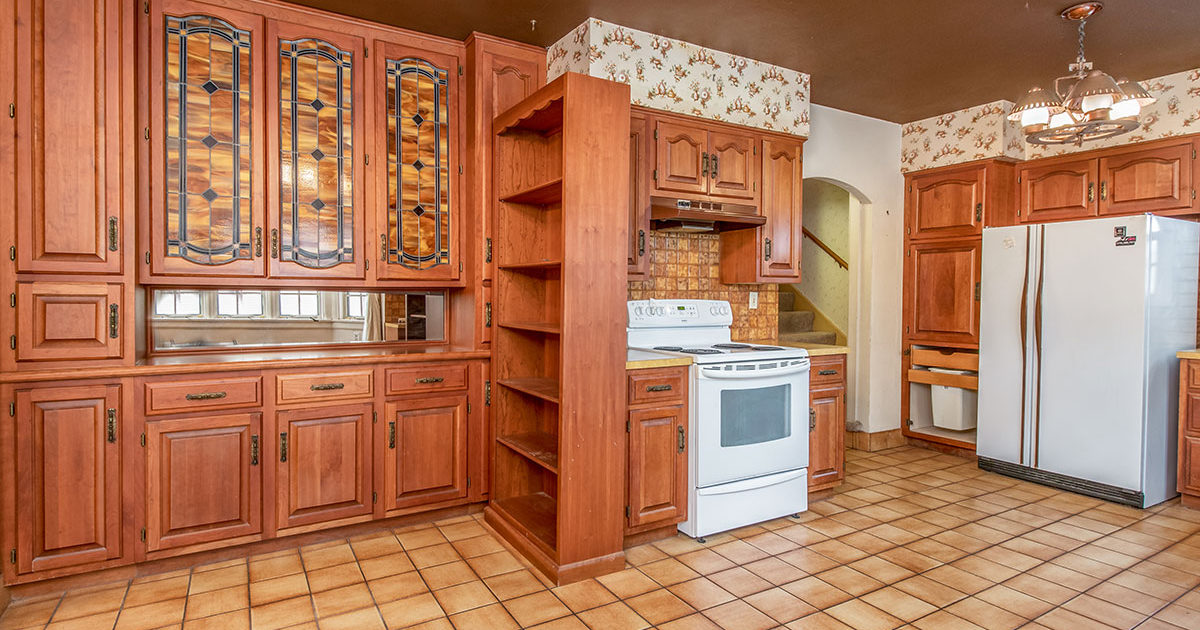 Today we are going to talk about the kitchen and discuss some kitchen renovation plans.
The home is a Tudor Revival style with a steep roof which is typical of the 1930s era and the Wichita neighborhood.
The current kitchen is not original to the home and was probably renovated in the late '80s or early '90s. The cabinets have lived a great life and it's time to give the kitchen a fresh new update with this major renovation.
Before we begin, we will be checking with a structural engineer to make sure it's safe for us to remove the wall between the kitchen and the dining room. It's always a good practice to seek professional opinions before any type of demolition begins because you need to know where the load bearing walls are and which walls you can tear out.
Every remodel has unique situations like this home. We know there is chimney wall on the other side of the stove and we hope to expose that brick to make it a feature wall. Even though this home is older, we are going to bring in some of the modern convivences in the current tight kitchen space. However, we will rearrange the layout a little bit to make it more modern and open.
The soffits will be removed to create a more spacious feel to the kitchen.
The Star Cabinet team came over last week to measure and look around the space to get an idea of the layout and what to do in the future design. After some time and consideration, we created several plan concepts and began merging ideas to create a more efficient use of space, increase storage, and make the space look and feel cohesive with the entire project.
To catch up on the latest kitchen updates follow these vlogs: Kitchen Demolition Day! – Removing the Cabinets, Star Showcase Home Planning the Kitchen Floor, Star Showcase Home Kitchen and Dining Room Floor Removal, and Showcase Home Kitchen Cabinets Are Up!