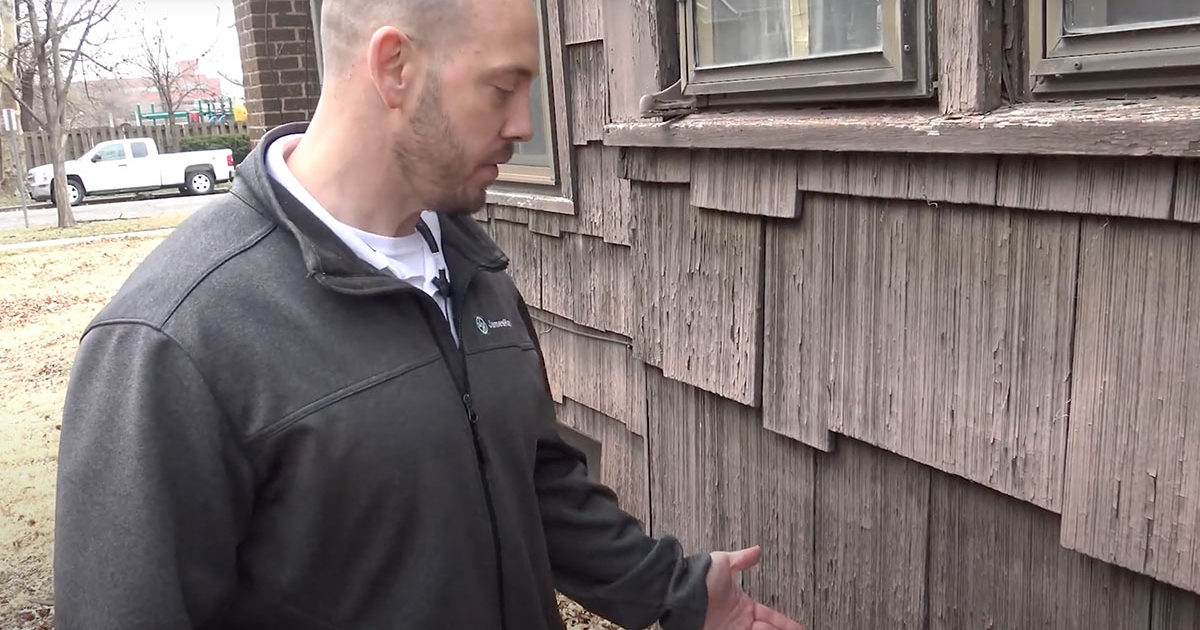 Today, Justine from, James Hardie, will be walking us through the new siding planning process and he will talk about the best ways to manage the estimation of materials needed and costs. In the meantime, we will begin taking off the old siding.
What is the current condition of the siding?
The siding is as expected to see on a home this age. The weather has plagued the home and the performance of the wood siding. The siding had expanded and contracted over the many years and has broken down and needs to be replaced.
What is the first step in deciding how much siding we need?
Doing a take-off is an important part of the undertaking of the estimation process. A take-off is the process of measuring the height and width of each wall of a home. Multiplying each length and height measurement to find the square footage of each wall. This process helps the contractor and homeowner estimate the quantity of materials needed and the costs for an exterior siding remodel.
Justin is using the Hover App which helps with creating a fully customized estimate and 3D model of the home with complete measurements. The app helps contractors and project planners save a lot of time and it enables to estimate the right quantities of materials needed for the project. Additionally, it helps the homeowner to decide the look and feel they want for the home by playing with the 3D home model and experimenting with different siding styles and colors.
What will be used to replace the existing siding?
We are going to replace the old siding with a lap siding.  The new siding will have areal wood look and we will incorporate a shingle siding into the gables and accent areas of the home.  The James Hardie siding will immolate real cedar shingle.  It will have the textured look like the real grain of wood.  All these unique features of the siding will continue to preserve character and charm to the home that we have grown to love.
There are many advantages of the James Hardie siding. It is a fire and pest resistant product which allows for great discounts on homeowner insurance. Not only is it fire and pest resistant, but it is also moisture resistant too. It will not expand and contract like the old wood siding does. The James Hardie siding is quite durable and is a great low maintenance product. Unlike other siding products on the market, the James Hardie offers a 30-year non-prorated warranty.
What colors are being considered for the two styles of siding?
We will be installing a pre-finished siding called Color Plus that will be representative of the existing colors in the neighborhood.
To see the siding progress follow the Star Showcase Home Siding Is Complete! vlog.